Installation shot of ,"Sentimental Taxonomy", at Random Parts Gallery
Installation of, "Sentimental Taxonomy," at Random Parts Gallery in Oakland, CA

Installation of "Sentimental Taxonomy," at Random Parts Gallery in Oakland, CA
Vitrine 5, 2014-2018
An image of objects from participants in 4 states for a 24x48" vitrine.
Drawer 1, 2016 - 2018
Images of objects made in 3 states to fit in a 17x23" drawer
Drawer 2, 2014 - 2018
Images of objects made in 4 states to fit in a 17x23" drawer
Drawer 3, 2018
Images of objects made in Chico, CA to fit in a 17 x 23" drawer
Drawer 3, 2015 - 2018
Images of objects made in 4 states to fit in a 17x23" drawer
Vitrine 4, 2014-2018
Images of objects made in 4 states to fit in 32 x 40" vitrine
Raphael, San Francisco, 50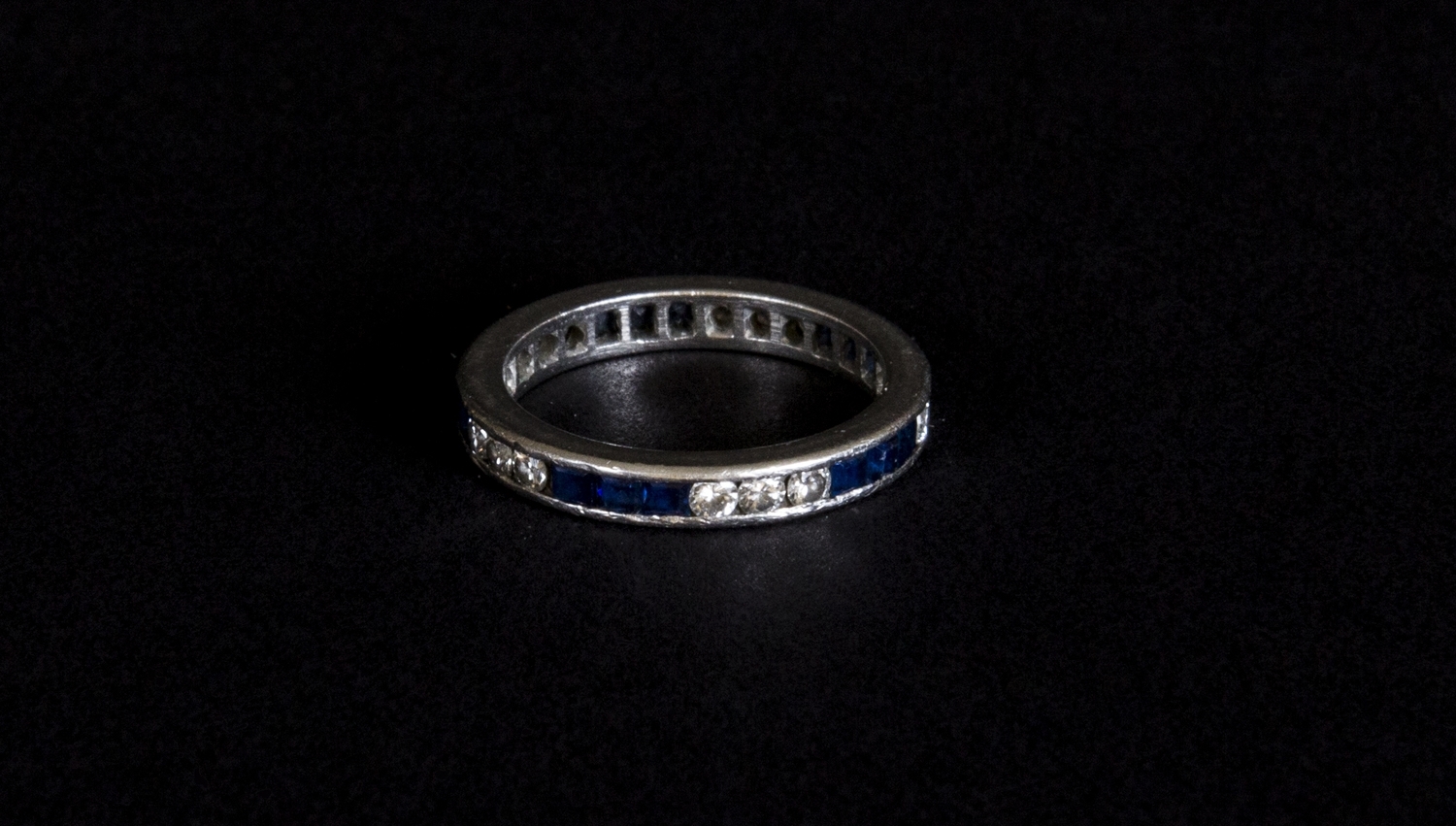 Elizabeth, San Francisco
Jennifer and Chris, San Francisco
Amy, San Francisco, 33
Esther, Palo Alto, 65
The mugs were purchased as "seconds" on a visit to Rye, England in the late 1980's & have been my primary coffee mugs on a daily basis ever since. I was with a close friend at the time and I suppose the mugs carry some of the memory of the experience. One has a lot of cracking inside, so I don't use it anymore, (it is "retired") but I still keep it in the cupboard. The handkerchief and bracelet were gifts from my grandfather who died when I was about 5 years old. He was from New York, but he died in New Orleans, LA. The handkerchief arrived in the mail a few days later. I don't know much about the bracelet, except that I always liked it. One other thought--the handkerchief and bracelet are "treasures" but I haven't preserved them very well. I think this is interesting. I don't think it is that important to put them in archival storage or anything.
Alicia, San Francisco, 36
As much a I sometimes love beautiful things, and even though I am a maker of things— I try to consider and distance my attachment to objects. I also don't throw things "away" easily. That small act usually incurs some sort of stress for me. I thus worry about hoarding, and try not to obtain too many objects in the first place. I decided I would marry someone who is more organized than I am, to the point of the opposite problem. He has no trouble throwing anything "away". Nor does he spend time trying to understand what "away" might possible be in a world that operates more like a closed system, than a isolated object. But I digress... The things I gathered that morning when you asked me, where a light pinkish orange micro sharpie, the sort with the old metal part that clipped onto your shirt. Now sharpie makes them cast entirely in plastic. Which is better for recycling but, because its a change— (this change occurred somewhere between 2000- and 2006) —those old ones seem more "nostalgic". I picked out this sharpie because I had used it all up. This feels somehow like a solemn event in this day and age. To use a product till the end of its use life. How often do you use a pen until it runs out? without loosing or destroying it. I somehow wanted to commemorate this sharpie, that had likely been manufactured a decade or more before. I had been holding onto it for sometime, I had thought to write something about it with a photograph on Facebook, but I almost never do that so it just sat on my bureau. Unfortunately, I changed bags before heading to meet you and left the sharpie at home, so we just placed a pen in the photograph— this disappointed me quite a bit, but reinforced my desire not to be overly attached to objects, or to be acutely aware of that attachment. The gold necklace was a thin long lovely chain of my mothers, that likely was her mothers. It was broken, as happens easily with thin long chains— especially of soft metals like gold. She had had it repaired and given to me. The way they repaired it was to melt the two ends back together, and there was a little blob of solid gold where the mending was done. I wore this for not a month, and while washing dishes I leaned over and it caught on the rack and broke again. The muscle shell is from a dinner— my father was there. Stephen ordered muscles. I don't often take shells from beaches or the sea. But I often take them from restaurants when others order them. I read sometimes that should ocean acidification continue unabated we will not have shells in the future. I have a hard time writing that sentence. The striated rock is from a time when I did take something from the sea. My brother took me scuba diving for the first and only time i've been. This was in Plymouth Massachusetts. A town over from where I went to high school. It wasn't Hawaii, or Aruba or anyplace exotic. And it was astonishing. I think about that rock. and the layers of sediment that cause the striation, the time that must have spanned this transilience. And then I think how very brief our time is.
Ash, Pinole, CA, 23
My father passed away three weeks before my 17th birthday. I have always felt that he was the closest person to me in my life, and I carry these small mementos with me everyday. The handkerchief has his initial - G for Gilberto - which is on like the many he carried in his pockets regularly. The necklace was a purchase he made in Miami that he wore every single day. It's supposed to be a Bull horn and according to Sicilian folklore, it's to ward off the evil eye and protect the reproductive system (he bought it when he and my mom were trying to have children). Lastly is a book clip night light he gave me around the age of 11. He was never very good at reading, he suffered from dyslexia and never grasped English as well as he did Spanish, but knew I was an avid reader. So he gave it to me to use as both a bookmark and a nightlight, for evenings I didn't want a bright lamp on before bed.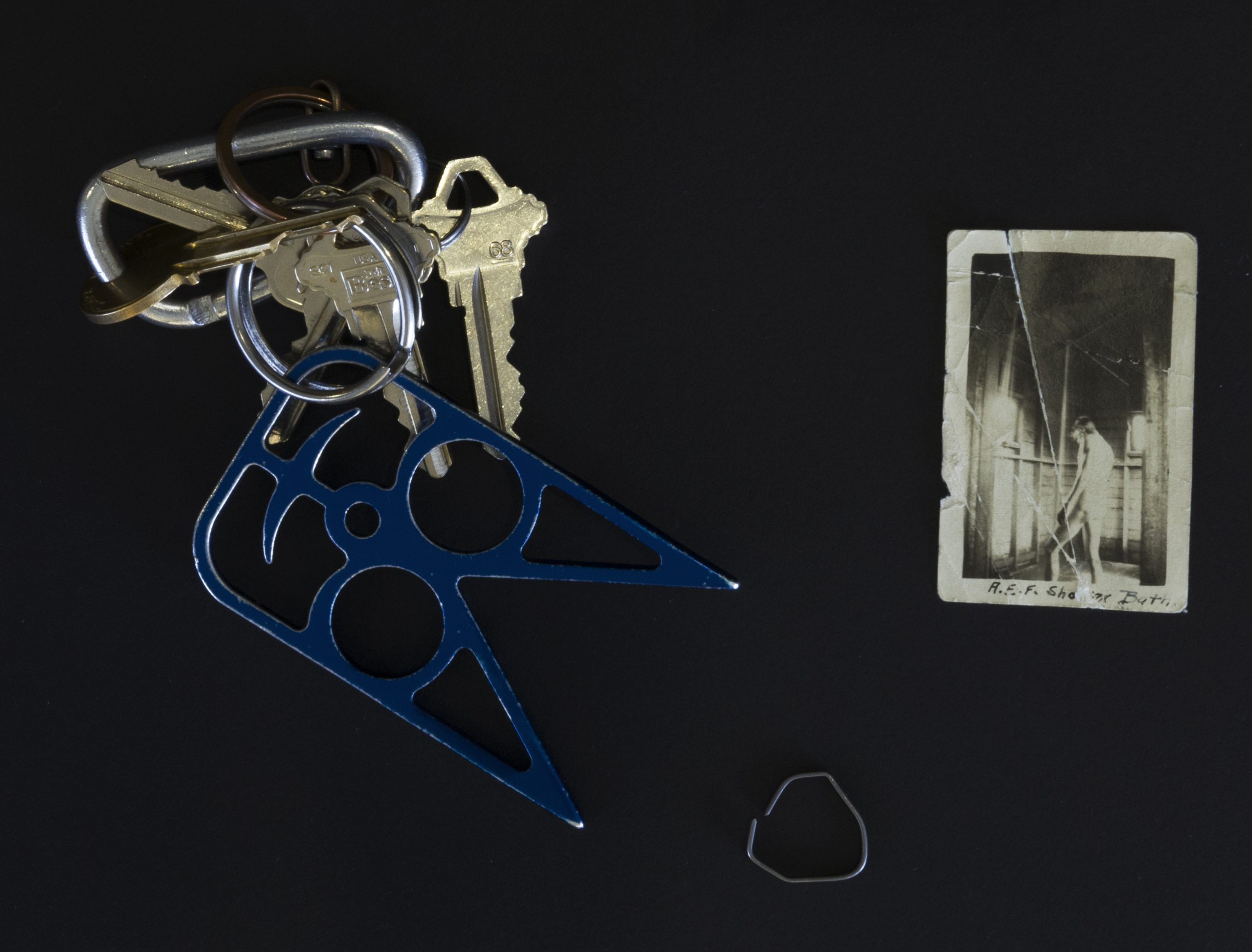 Emily, New York, NY, 29
My most favorite of these objects is the small photo I keep in my wallet from my grandma. After college I moved in with her for a short while and while rummaging through some photo boxes together we found this strange photo of a naked man from WWII. She told me to keep the photo in hopes that it might bring me good luck in life, so I always have it with me in a slot in my wallet. Since then she's passed and this nudie pic is my little g'ma good luck charm.
The other objects are my fraidy cat which keeps me safe at night from harm and danger! And the ring is from my bf, he formed it out of an industrial staple while I was whining to him that he never gave me any gifts.
Brooke, 31, San Francisco
My mom discovered that she could order fabric with photos printed on them. She made me this pillow of my dog, Jack (after his first haircut). I think this is a little weird and random, but I love it so much it. I keep it at my desk at work. I've had it for a little over a year now.
Christine, San Francisco, 33
Pictures better off left inside. Not for the world to see.
Minna, Oakland, 23
This is my mother's rolling pin. My grandmother gave it to my mother as a gift when my mother moved out of the house as a young woman. My mother is from Finland, where sharing coffee and baked goods with friends is an important part of daily life. (Finns drink the most coffee per capita of any nation, and no coffee break is complete without a pastry.) Since my mother was leaving the country, my grandmother wanted my mother to have a way to create this tradition no matter where she was living. When I moved out on my own, my mother passed the rolling pin on to me.
Christopher, San Francisco, 37
a dessicated European starling I've carried with me for a couple of decades. The long dead bird has lived in my studio since the late 90s, migrating from space to space, four in the boroughs of NYC and one in San Francisco. It's a cherished (and fragile) memento mori, a testament to the wonder, beauty, and ambivalence of existence.
 
Samuel, Oak Park, IL, 37
This Leatherman was a Christmas gift from me to my father. He loved his knife and he said it was one the best gifts he had received. I can't remember exactly which year it was, but it was between 2002 and 2005. My father died in 2009, and this belonging that I got from him after his death.
Jenny, San Francisco, 38
My husband found this humming birds nest in our back yard the week our daughter was born. Now she holds it to practice being gentle.
Malka, Oakland, CA, 30
This ring was a lend from my girlfriend that she doesn't plan to get back. Her mom found it and had it fixed for her many years ago. And now I wear it all the time and feel loved.
Sara, Los Angeles, CA, 23
The Top Ramen and Vienna Sausages are from the last meal I cooked with my grandfather. The other ephemera are things I collected on the day of his funeral.
Melissa, Washington DC, 33
Object is a Rosary from my mom. She travels with one and sleeps with one. When I left home for the first time alone, she gave me one. I don't have the original one, but somehow along the line she gave me this one and I keep it with me all the time. It's a combination of safety, memory, and hope.
15, Los Angeles
Shawn, Oakland, CA, 22
My brush has me feeling like Denzel Washington
Asha, Oakland, CA
This is my favorite kind of pen. When I use it, I feel like I have my past present and future in my hand.
Carmen, Oakland, CA, 24
My bracelet is a gift from my grandmother. I wear it everyday to have her with me.
Jennifer, Oakland, CA, 24
This ring is a gift from my grandmother. Her engagement ring is melted into it.
Sara, Oakland, CA, 10
I have had my backpack for a very long time and I wear it all the time.
San Francisco, CA
These are gifts from my son.
San Francisco, CA
I bought these three rings when I first arrived in San Francisco.
Marcia, San Francisco, CA, 65
This is a photograph of my son. He was killed by a drunk driver when he was 18 years old.
Rachelle, San Francisco, CA, 29
4 Sea shells, one seed from Amazonian tree, 1 tooth from a wild bear
These were all from places that were significant in changing and shaping me as an artist
Sara, San Francisco, CA, 31
Was one of the few things I brought with me when i moved to America- My grandfather gave it to me- he used to tell me that the ocean lived inside the shell. I still think it does...
Mitch, San Francisco, CA, 27
Brass ring my father gave me 10 years ago. His favorite architect made it.
Diana, San Leandro, CA, 47
My husband proposed at this Columbian Hotdog/ Arepa Columbian spot in Miami
Mom made this pillow for me when she dreamt about and faced her mortality.
My younger brother gave me this ring when he was in elementary school.
My Tio Hernando "Tio Money" bull fighting someplace in Columbia before I was born.
Tio Money's handkerchief, he always had one, very common for men / people of his genration.
Manny, San Leandro, CA, 49
Puerto Rico Patch - represents my formative years in Puerto Rico where my innocence was lost.
G.I. Joe - representes my childhood in N.Y.C. - before my innocence was lost.
N.Y. Cap- my birthplace
Elegua beads - my spirituality & my connection to my ancestors.
Postcard / letter from my honey- my happiness & my wife. <3
Janelle, Oakland, CA, 36
I stole this stone from Yaxchilan, an ancient Maya city in Chiapas. It was an impulsive, shameful act. One of my dirty little secrets. The stone has become a reminder of the biggest risks I've taken, the rules I've broken and the acts of rebellion, however few, I have performed in my life.
Terry, Oakland, CA, 33
A ring with symbols & images to commemorate service, skills, and memories in the US Army.
Caya, San Mateo, CA, 36
Deaf! ASL! It's like a security blanket to show that I can do anything bsides my deafness. Also I use American Sign Language as my preferred communication.
Jeremy, Washington DC, 38
I'm feeling connected with my I-phone so that I can communicate with my girlfriend whom I've been dating 2 years- long distance - DC & SF
Shirin, San Francisco, CA, 23
This pen has been my latest obsession I got it for free at a music show, and since then have been using it for everything- I just love it!
Ariela, Mexico City, Mexico, 25
This is my wedding ring, it is engraved with my Wedding date and husband's name
Jon, San Francisco, CA, 32
Wallet- Nothing too special except that I think its fancy spending money to buy something to keep money in. I like holding it like a book there is Italian etched into the leather.
Red Envelope- Mom and Dad gave me this for my birthday. I've kept it in my wallet. I don't know what it says (or I forgot) There is $100 in it. It's lucky money.
Heather, Oakland, CA, 33
Pot is from Ladakh- from a women's craft collective. I brought back the pot, carefully carried from the Himalayas to my home in Big Sur. 2 weeks after my return, our home was destroyed by a fire started by lightning. I was very sad I had left the pot in the home + assumed it was destroyed as well. After the fire, digging through the ashes, miraculously I cam accross the pot, perfectly intact, only newly marked w/ black from the fire.
Robbie, Albany, CA, 12
This toy tin truck was given to me by my great grandmother.
Dana, San Francisco, CA, 32
Both objects were my grandmothers. When she left her home to go into assisted living my family gave a lot of her items she no longer needed to the family. Included in the stuff sent to me was these gloves + wallet. They were barely worn, I have since used them a lot and almost worn them out so I stopped using them to preserved them due to attachment. I like that my grandma and me have the same glove size!
Adriana, San Francisco, CA, 37
My dad gave me the pendant as a gift when I was little. He told me it belonged to my grandmother. Her name was Freida
Mik, San Francisco, CA, 38
This is my dad's Philippine passport that he used when he first arrived in the U.S.
Monica, Oakland, CA, 40
A few years ago my father gave me this hospital wristband from when I was born. When he gave it to me, the printed next was still visible - now it's mostly disappeared.
Patricia, Oakland, CA, 25
The scarves have hung on the walls of my past four rooms because of their strange details. They are both from Lompoc thrift stores.
The bells are from a Botanica in New York. I made molds of them for a sculpture class assignment. I like their shape. I melted the lump of silver myself from silver solder- it's actually made of about 30% lead. I wore it on a ribbon around my neck until my sophomore year of college.
The lump of resin formed on a Juniper tree where it was hit by lightning. My friend gave it to me.
My sister made me the astronaut earring when I graduated from college.
The reflector is from a school bus that crashed into my elementary school when I was in 6th grade. It hit the teacher's lounge, during recess.
The poppy pods are from a farm in Vermont I worked on. We learned how to extract the seeds.
The perfume is the first sample of perfume I ever received. Perfume, and the accumulation of samples of, is now very important tome.
Marsha, San Francisco, CA, 62
I have had a fascination with hands for a long time. A friend game them to me. For me they have a history. I ask, where are the rest of the parts, what did the doll look like, who loved her? No longer attached to the body, the become a glimmer of memory, childhood, unsettling, sad...
Ruby, Berkeley, CA, and Taiwan, 26
The pair of shoes are bought by my grandmother two and a half years ago before I came to the US to study. Its good quality but I wore it so much that cause some damage on the bottom. I simply love old stuffs so I don't want to throw it away, but when I came across this project, it immediately reminds me of that my grandmother bought this for me and the day we spent in the shoe store.
Kate, Oakland, CA, 30
My objects are all representative of people that are close to me, place I love/ that have impacted me, and traits, goals, and sentiments that I am proud of or are somehow a part of me. Each object holds a story or many stories for me and reminds me of things that I have experienced with joy, gratitutde, trepidation, humility and awe. Most importantly, many of these objects express the way sharing experiences with friends and family deepens those moments, and expands my own connection to others and the world we share.
Ryan, San Francisco, CA, 34
The globe + atlas are important to me because the globe belonged to my grandfather when he was in the Red Cross, traveling to Germany to help rebuild after WWII. The Atlas was restored by my other grandfather who fought in that war and later became a bookbinder. Together, they represent my admiration for two men who dedicate their lives to making the world a better place.
The camera was given to me by my father to use in my first photography class. It has been with me all over the world, and represents my journey as an artist.
The belay device is used in rock climbing and keeps me and my partner safe. It represents my love of the outdoors and adventure.
The compass was given to me by my girlfriend Kate. It symbolizes our shared love of adventure, and finding our way through life together.
Kevin, San Francisco, CA, 52
One bracelet given to me by a friend I don't see so much any more, and miss.
One bracelet given to me by my partner who lives in Chicago, and whom I miss.
Jeremy, Oakland, CA, 37
My beloved Borsolino cap from Rome in 2000.
My shuron Ronsir eyeglasses (50's)
Fiona, Castro Valley, CA, 8
This is Baloo, He is special because my mom and dad gave him to me when I was born.
Phoenix, Castro Valley, CA, 6
This is a Nano Bug, I like it because he moves.
Christine, San Francisco, CA, 46
The sunglasses were £10 in Dublin, Ireland on a trip with my mother. We never travel together anymore. Everyone comments on how cool they are , even though it's not the looks that make them essential to me (or the UV quality.)
The ring is a $10 ring that my husband and I bought super quick online b/c we forgot to order rings for our ceremony. I never wanted anything else
Emily, San Francisco, CA, 24
I am from NH (East Coast transplant in West Coast) I use it to keep my keys together and remind me where I cam from / grew up.
Kevin, Oakland, CA, 42
Duplicate ring of one I have had since 25. The original one broke when a car door slammed on my hand, but it essentially saved me from a broken finger.
Marko, San Francisco, CA, 25
It was the first time I lost my wallet, and this paper clip has been holding it together for me
Sholeh, Oakland, CA, 32
Jonathan, San Francisco, CA, 23
in 2007, I lived in Japan for a few months, and I received this charm from a Buddhist Temple. I've had it ever since.
Sarah, Castro Valley, CA, 35
My Dad gave me this necklace as a reminder that he is not giving up despite his Parkinson's diagnosis.
Nicole, San Francisco, CA, 22
My mother's watch she gave me before I moved to SF 1 month ago. A watched she used during her career and so she gave it to me for the start of mine.
Lindsey, San Francisco, CA, 24
Bluey (very originally named for his color) has been with me since the day I was born. He was actually my sister's blanket that she had no interest in so I inherited it. If I ever feel sad, I take a drag of Bluey and feel immediately comforted.
Francesco, San Francisco, CA, 40
This Moka Stovetop reminds me where I'm from, it starts my day every day. It's probably the most common object in any intalina household anywhere in the world.
A.R., San Francisco, CA, 32
The photo is of mother who is deceased.
The ceramic skull I bought for $25 at the Getty in Los Angeles.
Angie, Oakland, CA, 32
The Ray ban sunglasses was belongs to my dad. He was very stylish when he was young, and my sister, brother and I always like his old stuff. But since I don't live in HK with my family (I'm the only one away from HK)I don't get a chance to get his things when he discover some old stuff at home. This glasses is the only thing that my sister and brother were not interested in and I really fall in love with. My dad has a really great story about his past. And every time I go back home, I ask him to tell me the story again although I don't know how the sunglasses associate with any story he told, it just remind me of his awesomeness every time I wear it. To give you a sense of his awesomeness: When he was in his 20's he left Vietnam to China during Vietnam war, and went to Hong Kong with $5 in his pocket. He spent $1 on cigarettes, and another $1 for a few hot buns, and found ways to live his life with the remaining $3. That's very important for me. As I'm sort of doing the same thing--left home, and live my life alone in foreign city :) very encouraging.
Andy, 26, and Nina 28, San Francisco, CA
This key is from an apartment in Paris.
Receipt is from when Nina had her thesis printed + bound.
Tickets to events we have gone to together
Arvolyn, Kent, CT, 25
I started making dreamcatchers to keep my hands busy. I like it because it represents different aspects of me. Its made out of a hula hoop and I love hula hooping. It uses recycled print fabrics which I am always collaging. Also the process of weaving the web calms me down and gets me to focus which can be hard for me sometimes.
Maria, New York, NY, 37
I bought this house at an estate sale for an artist.
"Warren Creativity" is a very pure art gesture (nobel). It is free from monetary want and status. The paper house is shabby on the outside but has a full interior hidden inside. There are secrets only the maker Warren knew and they have gone with him.
I will never know all the details of the house.
Ryann, Mt Vernon, FL, 28
My best friend, Robert, is on this pin. He gave it to me in Florida. This picture is the only one I have seen him in with a beard, and a picture chosen by his friends in the band Safety. He didn't know they were making this pin.
Nick, New York, NY, 26
This bottle opener is from a brewery in San Diego, where my sister & brother-in-law live. It was a gift from my brother in law.
Jon, London, England, 37
Things I carry in my wallet:
Metrocard was used as I moved back to NYC from VT in 2007- I feel like it is good luck.
Sacred heart thing- my parents gave me when I got my drivers license.
Serenity prayer card- I am not sure where this came from- and it oddly has nothing to do with my addiction.
Gemini pendant, NYCT Token _ handwritten note are all from my grandmother - I got them after she ded (2011)
Cassie, Wassaic, NY, 26
These rings were handed down from my grandmotheer to my mother and then to me and I never take them off. They are an extension of my limbs. They are all old- pawn turquoise from the fifties
Gabrielle, Highland Park, NJ, 26
When I left California I had to downsize my belongings so I edited my collection of plants an rocks down to what would fit into a jar.
The first year of grad school my grandma died- we were very close and I traveled backe to California a few times during school to see her, but was not there when she passed. That day I went and go "All my love, Eleanor" from the photo, tattooed on my collar bone.
My mother gave me her perfume at the funeral. She had always let us wear it on special occasions.
This fall my paternal grandma, who we called Nanny, passed away and the family had to dispurse/ sell her many collections. My mother saved me one of her little owls and this small macrame that she likely made at church or something.
My paternal grandfather passed away while I was in college, I don't know how important this "Optimist Creed" plaque was to him-- but it is special to me.
The torah is a family gift that was given to my sister and I when we were spiritually adopted by them. I have it but it probably means more to my sister
Andrew, Brooklyn, NY, 25
The watch I inherited after my dad passed in 2006. As a kid I remember my dad having a collection of watches. I admired my dad's collection and admired him and his taste/ style. So I would steal his clothes and watches to wear them to school in the morning. After his passing my mom gave me his collection and I haven't purchased a watch since or worn a different watch. I was given one of his most prized watch. Most of all I value the act of shaking and winding the watch. The reminder it will never truly break, watching the weights and gears turn.
The print comes from my 1st + only dog I picked at age 12. I remember the excitement driving to the shelter. The drive home a puppy pitbull standing and fitting on y lap. Twelve years later my dog passed. The circumstance did not allow me to see her or say goodbye.
Christine, Brooklyn, NY, 25
The Tennyson Birthday book belonged to my grandma Gloria Moschella. I came uppon it after she passed away when the family was asked to choose a few items from her house that they wanted to keep. It contains the birth dates of most of my relatives on my mom's side of the family. SInce I've inherited the book, I've added friends' birthdays, usually by asking when their birthdays are, reading their respective poems to them and then writing downt heir names on the date. I usually keep this book by my bed and refer to it often.
Deon, New York, NY, 24
I encountered this $2 bill after an enchanting visit to Egypt during the Egyptian Revolution.
Irfan, Wassaic, NY, 25
The hat of the town I was raised in. I've made at least 100k pizzas in this hat.
Megan, Wassaic, NY, 22
My mom bought me this lunchbox because Sailor Moon was my favorite TV show. Once on the way to school I got sick and it was the only plausible vomit receptacle. Usually at recess everyone would throw their lunch boxes on the pavement before going to play, but I always had to set this one down carefully so I wouldn't mess it up.
Bea, Wingdale, NY, 54
I bought this necklace for myself with money I had earned babysitting at age 13 in a cool head shop in Virginia Beach, VA while vacationing there with my family. My first really cool piece of jewelry.
Jane, New York, NY, 58
These are both gifts from my husband-- the necklace was one of the first he gave to me when we started dating and the bracelet after we married. Both I wear every day--only taking the necklace off occasionally. The bracelet went missing for many months + was then found after the birth of my son.
Christopher, Wassaic, NY, 30
I quit my old life and started a new one with this contraption. It breaks hearts if you're lucky.
Sam, Wassaic, NY, 20
A good friend of mine gave this necklace to me for Christmas because I had lost a similar one that I had gotten on a once in a lifetime trip to Guadeloupe, and he knew I missed it. I will never take it off.
Lauren, New York, NY, 28
My sister started making beaded necklaces when she was going through a challenging time emotionally & living at home. She used milk glass that belonged to my grandmother Cleo, a pendant she got while traveling in Israel that has a(n arabic?) coin on it an a small swirl charm my mom got in India. I love that she incorporated so many charms and beads that have been around for a long time in a new way.
Meredith, Stanfordville / Bancall, NY, 24
The small pinky ring belonged to my father's mother. I was closest to her of all my grandparents and when she passed this was one of few items she left behind (plus mounds of costume jewelry). It was hers as a girl and holds a special corner in my heart, a diamond "B" for my beloved Grandma Barbara.
The other ring was my father's fathers. He was a pinky ring ENTHUSIAST, a real fancy man when he wanted to be. All 4 grandchildren got one when he died.
The necklace was given to me by my mother from her mother. simple and beautiful like my Granma Jane. I thin jewelry is a simple and beaufitul gift for people. A gift I always cherish.
Ian, Pine Planes, NY, 29
Two of the objects are pieces of clothing my grandfather wore. He died. I wear the plaid shirt all the time. Probably the only important item I own, sentimentally speaking. The world map jacket reminds me of my grandfather, so I kept it. The doll was made by my ex-girlfriend. She was a very important person in my life The flo doll reminds me of both the nice and terrible times. She made it, she was very creative with the materials. It's made of a sweater that I shrunk.
Jill, Wassaic, NY, 23
It was the all purpose blanket of my childhood used for everything from covering up the backseat of the car to picnics with my dad to my bedspread in my first house after college. I think we got it at a yard sale or somewhere.
Lanny, Wingdale, NY, 66
These items belonged to my Vietnam Navy buddy Bill. While I was a poll barer at his funeral, his family asked me to put on his watch before he was removed from the hearse. I told them I am not worthy. His wife, mother, father, and sister said, "yes you are." It was a "his and hers" watch, matching with his wife's. The bracelet his wife gave me last year, it was also part of a "his and hers" set.
Donny, Stanfordville / Bancall, NY, 25
A 1970's Sigma acoustic guitar that my father gave me at 15 yrs. old. This guitar has seen a bit of ware and tare. I have recorded many records with this guitar and have brought it on many tours around the country. Blood has been spilled on this guitar. It has seen many good hands.
Karen, Millbrook, NY, 62
My grandmother's front door house key from Opelousas Lousiana. I've carried it in my change purse for years and it has turned from silver to gold.
My mom's toy stove I played with and is now on the shelf behind my wood stove. She was allowed to play iwth matches long before I was.
Kara, Dover Planes, NY, 50
This key is for a 1993 VW Cabriolet convertible. I got the convertible after borrowing my friends Mazda Miata during the week. She was a "weekender" that only used her Miata on weekends. She let me use the Miata because I was going through chemotherapy treatments and to drive in a convertible was like being on a mini vacation- it was freedom-so much fun. Finally- well actually - not long after- I needed to replace my old car, and I couldn't keep using her Miata and my dad found my VW Cabriolet in the paper. It was used-but only had 21,000 miles on it- basically new. Well, I bought it in 1995 and now it has 268,000 miles on it. I hope to make 300,000 miles on it before I get rid of it. I drove it to Seattle with a boyfriend, and backcross country by myself It has taken me everywhere. My four nieces were little girls when I got it and now they are grown. They have so many great memories with me and the car. It's been the most enjoyable and consistent object in my adult life. It's a part of me. I'll miss it when I have to sell it I'll cry.
Loren, Wassaic, NY, 32
Mr. Bunny was given to me as a gift when I was born. He is a Gund "Love Me Bunny." When he became worn I was given an identical bunny named "New Bunny." She remains Mr. Bunny's companion to this day. Mr Bunny was a very animate presence in my life. I took him everywhere with me, and I still make sure to place him in comfortable positions when I sat him down somewhere. My grandpa made him new ears out of an old towel, and glued his eyes back on when they fall off. Once my elementary art teacher, Mrs. Stopp sewed the patches on to keep his stuffing from falling out.
Richard, Sharon, CT, 68
This school bell was used to signal the end of class 10x/per day at the Queens Outreach Center from 1981- 1985. The school, Iocated in Flushing NY, was named the Abraham Lincoln School and was built in the 1800's. The school not have an electric automatic bell system, thus the school bell.
Carolyn, Sharon, CT, 66
When I was being treated for breast cancer, the port was inserted into my chest leading to my heart so I could receive my chemotherapy because my veins weren't strong enough. When my treatment was completed it was removed. It was December- The Dr. was going to throw it away. I wanted it! I put a red ribbon around it and hung it on my Christmas tree! Its the most expensive ornament I own. It is a symbol of my recovery and hope for the future!
Kara, Dover Planes, NY, 50
The teddy bear (who I called "Ted") has been with me since I was one or two years old: He used to reside on my bed with Trixie when I was a kid. Now they reside in my hutch. Ted has spent many a day with me (or night) hiding, escaping, crying or having fun under my bed. Trixie is named after my old neighbors' "real" dogs (they had those tall terriers Airedales? also named Trixie) Anyway Trixie (my trixie) was at one time very stuffed and handsome. I always thought I would stuff him back to his former self- but that is yet to happen. Now, I kind of like him the way he is now- it shows his age and history.
PS Trixie lost his original eyes, so my grandmother sewed on replacement button "eyes"
Tracy, New York, NY, 49
Night light: This was my mother's as a little girl I used it whenever I visited my grandparents' house. Now it is in my daughter's room. She is 3.
Footstool: This belonged to my grandfather Daddy Archer who lived in Clinton, TN. My grandmother hated this stool and tried to replace it many times. But it always survived. He used it every evening my whole life.
Blanket: This is from the Los Angeles County jail. My dad was a guard there at night while he was doing his PhD at USC. He saved almost nothing over his earlier years- this is the only item he saved from LA.
Bell: My grandmother got this in Spain when I was very little. We were never allowed to ring it when my grandfather was at home.
Seedpods: We collected these as a family when I was 5 years old and we were spending the summer in Yugoslavia in the town of Ulcini They wash up on the beach.
Hat: I got this straw hat in Santa Fe on a cross country road trip when I was 26. Later that year I wore it the night I hooked up with my husband at a party. I tore a piece of his shirt off + tied it to my hat band. It's always been there. The hat has been all over the world w/ us.
Elliot, New York, NY, 8
Had the giraffe for 8.5 years prefers not to sleep without it. He chose the giraffe himself. He has two, one in the city and one in the country, the hands used to be made of satin, and he chewed them out.
Vanessa, New York, NY, 42
The Silver salt & pepper shakers in the form of poppies are made by Buccalatti. They were a wedding gift & I'm divorced, but they still bring me joy are evocative of hope. Also, their poppies make me think of the man I love (whom I met since my divorce) because he spent a lot of time in, and loves Afghanistan.
The ring is the logo of my company and is emblematic of a smaller force defeating a larger force. For me, it is emblematic of my self-realization: overcoming some daunting odds & finding who I am & what I value, the ring was made by a very dear friend, using a pearl I got while scuba diving north of Papua in January 2014.
Sawyer, New York, NY, 7
This is Sammy the Seal, he is my favorite.
H, New York, NY, 4
Crocie the crocodile is my favorite because he is soft.
Tonia, Wassaic, NY
Purple hippo: My mother loved the color purple and bought it in London when she admired it in the window, with its sparkly eyes. I have seen this object since I was 9 years old & it reminds me of my mother.
Russian Box: My grandmother gave me the box which she brought out of Russia in 1917. It was one of the few objects that survived a fire in her first house here. The peasant carrying the wooden rake seems typically Russian and makes me feel nostalgic for a place I never lived.
Michael, Brooklyn, NY, 28
A pocket charm from a friend that has stood the test of time. I think it's good luck. Tough to say really. Maybe it just makes me feel safe or like everything is going a certain way-- like I have control. It has never had a name, that makes sense to me. You can't give luck a name.
Brendan, New York, NY
Lila, Brooklyn, NY, 35
I've had the little bear cub since I was small, before I can remember. My mom drinks tons of tea so she must have brought it into my environment. I kept it, but it wasn't until maybe 10 years ago that as an I adult I somehow made the connection about where the figurine came from, and that I could attain more by buying and drinking this kind of tea. I have about 20 of these, and it's always exciting when I get thru a box and have an excuse to buy a new one / get a new figurine. I happened to run out yesterday, and had the new box waiting. The conch shell I got today is the one I wished for before I opened the box.
Adam, Wassaic, NY, 40
This was my grandfathers belt buckle. He always wore it until his death. He was/is my hero, and I lived with him in high school, and took care of him as he developed alzheimer's, until his death. Since then, I have worn this buckle. It had two buffalo head coins in the horseshoes when I received it. But I lost one falling on my face in a drunken skateboarding commute home one night in Brooklyn 15 years ago. The other made its way out without me knowing.
Lauren 38 and Adam 40, Wassaic, NY
This was a present for Adam for our wedding. I surprised him with it by hanging it on the Alter (or loose interpretation of an alter, stacked milk crates) We had used the symbol of the rainbow with 2 lightning bolts to represent our love in drawings (Lauren) and paintings (Adam). We also made temporary tatoos for the wedding so our guests also wore these love symbols. This flag travels with us everywhere, and Adam always makes sure it is hanging above our bed.
Molly, Dover Plains, NY, 29
My maternal grandfather loved beautiful things. He loved flowers, rocks and beautiful women (he had four daughters). Every year he and my grandmother travelled from Minnesota to Tuscon Rock & Gem Show & would come home with a new crystal. After he passed away and my grandmother moved out of the house, I picked out a few crystals to add to my collection...but his calcite as such powerful energy and always makes me think of him and our shared love for nature and beauty.
Chad, Dover Plains, NY, 31
My Dad's mother gave me my grandfather's navy compass for my 14th birthday.
My wife's maternal grandfather gave met he fur hat, which is so warm it only works for the coldest of winder days.
Wassaic, NY, 3
Jeff, Wassaic, NY
Moira, Amenia, NY, 64
The two mechanical animal toys were gifts to me and my brother from my father who rarely bought us anything we liked. Both my brother and I have clear memories of these toys.
The bear I made when I was six. It is made from my teacher's old coat. It is called "ecymosis" which means "bruise."
The postcard arrived three months after it was posted in Tierra Del Fuego, Argentina, by my best and oldest friend, Bell, who died of 'flu a week after posting it.
Aiden, Brooklyn, NY, 26
My blankie was made my mom's mom. It's the fourth I've had, I think. I lost one in a move, and on an airplane. I used to really love the feeling of satin.
Eloise is from my old roommate. I like her attitude.
The dinosaur mug was given to me by my other grandmother. It was made by a student at Tyler. I have a couple of them & I like to drink coffee in them. I surprised they've never been broken.
The horses were my dad's as a kid. I like to have horse things (and toys) around my studio.
The balls & thimble & spoon I found in my loft when i moved in. I think they were from Vera, the little girl who used to live there.
Fiona, Boston, MA, 22
This sweater came from a rag bin at the small art school I attended during high school. It's located in Marblehead, MA. I've used it as a painting sweater ever since and remember which side is the front by remembering that I got a large red spot of oil paint on the left shoulder.
Sarah, Rhinebeck, NY, 26
The metal corkscrews are from a project that I was working on for my job. I was building with metal and it was a rewarding job because I was creating as I was building. The corkscrews remind me of all the things I can do.
The stone pendant was a gift from my sister. She gave it to me when I was 14 and it felt meaningful to me at the time. I hung it in my car and over the years it became lighter and lighter as it bleached in the sun.
Nico, Wassaic, NY/Jersey City, NJ, 35
Board: I had never tried to bread a board & I did it at an event with ~ [roughly] 500 people watching. My karate teacher wrote on it.
Medal: I received that medal won the first ship I ever sailed on as an officer in the Merchant Marine.
Coin: My dad gave me a coin from 1808, sometimes I carry it and rub it with my thumb.
Picture: That pic is printed on a magnet. Brenna gave me that & some others to remember her by when I was training at sea.
Brenna, Wassaic, NY/Jersey City, NJ, 39
1These are the municipal signs used in the city of St. Louis to mark snow routes. When visiting a friend there I became fascinated that something so adorable and whimsical had an official place on St. Louis Streets. So, my friend.. procured one for me late at night.
I brought this sand to NY from Lake Powell in Utah. It's one of my favorite places.
My dad bought this chair for me to help furnish a dollhouse he built me after my parents divorced.
The girl holding the pumpkin is a gift from my ex-boyfriend who used to call me "Pumpkin"
The toy robot was a gift from my best friend Kate when I moved to New York.
I made a batch of these cups for my students the first year I taught Literature Humanities at Columbia University. They were a reference to the ancient Greek pottery we had studied.
Tyler, Clinton Corners, NY, 25
The pocket watch was a gift from a girl I briefly dated in college. One day we traveled to Connecticut and went to a flea market and she bought the watch for me as a gift while we were walking around. We lost touch not long after that.
Josette, Wingdale, NY, 68
The watch was given to my mother from my dad for her birthday in 1953.
The ring was given to my mom from my dad for Christmas.
Sean, Falls Village, CT, 29
This item was given to me by a very dear and quick love in my life. Brief in time, but lasting in my heart. We met in the quake of a 6 yr relationship only to fall in love and meet up again halfway across the country during the holiday season. This was my gift, and I have not taken it off since
Julie, Copenhagen, DK, 28
The ring box was a gift from my grandmother. I must have been very young, because I don't remember receiving it. It used to contain a silver ring with a pink heart. but i lost the ring. The box, however, stayed with me.
Sarah, Pawling, NY, 28
This wooden horse was given to me on my 8th birthday by my "uncle" who died from complications related to AIDS a year later.
Arthur, Millerton, NY, 64
Using both vintage old personal objects and new objects to creat a marquise experience... painted bottles by Sidney Emansky also panted rocks 1940'2 - 1960's Brighton Beach and Kather Pens Another Favorite Slogan Gone Fishing for Gefilte Fish
Lauren, Millerton, NY, 65
I've kept journals for 50 years. These 8 are a small representation of the journals. I always thought- wouldn't it be wonderful to have your grandomther's journals! Now I am a grandmother... Now I'm not sure. I will go back now and read through them. Then, I may burn them.
Rhiannon, Millerton, NY, 33
The cat was a gift made by my grandmother. I have had it since I was a baby slept with it until maybe college.
The two baseballs were my grandfathers. My grandmother told him they were sign by the '62 Mets team but they were actually just stamped
Christine, Millerton, NY
Hearts, mostly wooden, given to me though the years on Valentines Day from the "Valentine Prince', my hustband* Dennis~ * Though he would never admit it! Story goes: He glimpsed a dashing figure dart out the door & found heart (s) that the "Valentine Prince' left behind. Magic!!
Nancy, Millerton, NY, 66
This was my mother's pin- I don't know where she got it, but i have a picture of her wearing it just before my older sister was born, which was 1946.
Mike, Millerton, NY, 36
A college friend made this clay monster when she was a kid. She gave it to me before we graduated because she knew I loved it. I think it's awesome.
Arnau, Barcelona, ES, 33
This watch was a present from my father when we visted Milano. It is not an expensive watch, actually it is cheap. But I remember with love the moment he gave it to me in Milano. We were all eating pizza and he came with this watch and another for my sister. It was a great family holiday. I remember this night every time I look that watch.
Hallie, Wassaic, NY, 29
This was made by my grandmother who collected the driftwood. She made many of these. She died when I was 2 and I don't remember her so this and other simple objects have come to represent her for me.
William, Millerton, NY, 6
They trap team Skylanders hourglass trap earth element. Tusselsprout is currently trap inside made from traptanium
Ed, Dover Plains, NY, 66
Photograph: Stanley + Edward Nov 15, 1953 Mom took the photograph, Father shot and butchered the deer. Its hanging so high because of the dogs. I still lives in the same house--(House in pic is neighbors) Ed in front, brother in back.
This photo is enlarged from a smaller print and framed in a frame from my grandparents.
Surveying Equip: Started as a surveyor in 1971. Got out of the Navy and a friend came down with the flu. Saw another friend behind a survey instrument. The friend asked, "Ed do you want to be a surveyor tomorrow?" and I was a surveyor for 45 years starting that next day.
The Machete is for clearing brush to measure between points. Plumb Bob for measuring with steel rebar for turning angles to a point. The compass is for followng bearing on map for surveying land- finding property lines- you can look through see Asmoths (#'s) inside. The magnetic locator is used to find deed calls Iron pipes, etc. under gound steel rods and steel pins. The leather bag is used to carry maps and flagging.
Brian, Millbrook, NY, 33
I've carried these objects around for most of my life. Moving from CA to Tern Vally, ID to Maine and finally here to NY.. and I don't really know why. My favorite cell phone, childhood coins, watches given as gifts... there is some intrensic value carried by these items I have failed to lose over the years. They are my mementos of a time and place that was special, and powerful to me. They complete me.
Blair, Detroit, MI, 29
These tefilin (also known as "plylacteries") are boxes made of animal hyde that hold verses from the Torah that we say in daily prayer. They were my great Grandpa's and are one of the few family heirlooms have. I use them every morning and I cherish them. I fount them amongst my Dad's things in this needlepoint bag with my Great Grandpa's initials. A-rc for Aryeh L-f for Leib and N-J for Nosanchuck I don't have a strong connection to my families religious part so being able to connect to my great grandfather who wrapped these daily adds meaning to my own daily prayer.
Charlotte, Wassaic, NY
The Butler, Ames, IA, 35
The all around pocket knife is the do all do any task utility tool that is daily used and often asked for by others. Slayer of plastics, cleaner of nails, opener of beers, and that ever leveraged pry bar.
Ever notice all the stuff you can lose during the day? Aha, those parts that are unlit can now be searchable with the ol' classic day torch. I wear it every day on a belt holster. Be sure to visit your local hardware store so you too can be fancier during waking hours.
Tim 25 and Rebecca 24, Ames, IA,
Our wedding bands. We got married two weeks ago and have been together for four and a half years. (Rebecca) I was very determined to pick a ring that looks awesome and beautiful not one that would necessarily "match" my engagement ring. (Tim) According to Becca, I took too long to ask her to marry me. She barely even let me ask her the question before she said, "yes!"
Dulcee, Grand Rapids, MI, 26
A uniform shirt from a summer job.
Eloise, Grinnell, IA, 84
This Green Vase was a wedding gift. It lived on an open shelf in my house it survived my four active daughters through the years.
Joe, Grinnell, IA, 29
Red lego tower: I was way into Legos when I was younger, This is one of my favorites, my mom made this tower for the lego city we had setup on a ping-pong table.
Pine cone: This pin cord reminds me of the artworks my younger brother created.
Wood block: reminds me of my grandfather pipe: reminds me of hanging with my friends in high school.
Bowl: The bowl with pink duck tape is from my times at the Burning Man, I ate every meal out of this bowl during my time in the desert.
Kyle, Grinnell, IA, 25
This gun was given to me as a graduation present from my Grandmother. It has been passed down through the family. The first record we have of its existence is from the mid 1800's but it may be older. Family lore states it was carried in the civil war; but we are still trying to find proof of this. It was build more than likely in a German or Austrian gun shop. The family lived in Meclenburg Palmarania, Germany and someone had wealth based on the artistic nature of the gun and that it has rifling. Rifling was very new at the time when it was built and would have cost a lot to purchase.
L.E, Los Angeles, CA, 31
Crystal and bullet shell necklace
Pencil
Pocketknife
Cigar cutter
Matchbook
Voice recorder
Camino de Santiago passport
Maggie, Athens, Oh, 36
Kevin, Athens, Oh, 44
I've had this blanket for about 15 years. Each of my children (Zev, 12 and Ruther, 9) have their own blakets that they sleep and travel with. Ruthie's is called yellow and Zev's is called Rainbow. Mine is called Abba's Blanket (Abba= Dad in Hebrew) and in resides on the couch. The three of us sit under it together to watch tv or read. It fits all three of us.
Tony, St Paul, MN, 27
15 Year old carabeaner
I am an Eagle Scout and bought my carabiner 15 years ago at a scout camp in Wyoming. As a young boy, I thought it was really cool that it said it could hold 600lbs., even if it wasn't meant for climbing. I have taken the carabiner with me everywhere I've gone for 15 years. Once shiny and black, it is now worn, polished silver from use, and gouged deep from use. The carabiner holds my keys, serves as a way to carry a water bottle, has been used many times to open a beer bottle (there is no bottle opener attachment) by prying off the lid. I have on occasion, even used to hold my broken belt together or close a hole in a bag. This carabiner will literally be at my side as long as possible.
Chris, Minneapolis, MN, 25
I've been bald since I was a child. For the past five years I've worn this hat to hide it. Now, I'm known by it.
Andy, Minneapolis, MN, 25
My shoes I began wearing at the very beginning of a 6 week trip to China. They were white at the onset, and I tend to think of their curret state as a record of every rainstorm and brick covfered field I encountered there
Karen, Grinnell, IA, 75
This is the last gift my husband bought me before his Alzheimer's got so bad that he neer thought of gifts again (Bob Groves) Nursing Home Oct 13, 2009 - Nov 10, 2012
Don, Grinnell, IA, 90
These kickers hold a cows legs together when you milk them so you won't get kicked. I grew up on a farm + took over the family farm. This pari of kickers reminds me of an incident that happened in Germany in WWII trying to milk a cow w/o kickers + got kicked over into a pile of manure. I saw a pair of kickers like this and was amble to milk the cow. The city boys I was with got a good laugh.
Mindy, Grinnell, IA
Grinnell, IA
Rebekka, Ames, IA, 24
Tarot Cards
The Mystic Faerie Deck. First deck I bought myself during a time of spiritual growth on my journey of faith. This deck has been very good to me and the artwork is very inspiring.
Amy, Los Angeles, CA, 30
This object is an old ceramic hand flute that I grew up with. It lived above the sink and I would stare at it while I did the dishes.
Danielle, Elliot City, MD, 21
Photo: I originally printed out this photo of my twin sister and I at our kindergarten graduation for a photo transfer. I didn't use it, and have kept this version taped above desks I've had.
Brooch: This belonged to my grandmother. I never saw her wear this one.
Ring: I got this with my cousin in downtown Old Elliot City when I was in high school. It is not precious , although I am not sure what stone it is exactly. I've been wearing it on my left middle finger for several years now to remember her by. She passed away.
Plastic Fork : I just got this a few weeks ago at the strange catered luncheon at the funeral home where my grandmother's service was. My grandmother who was with me loved that I was so tickled by them that she snuck a bunch into her purse for me.
Haley, Albuquerque, NM, 25
Ring: Grandmother's Ring that she stole from my dad and wore every day until she died.
Necklace: A necklace my dad wore while I was growing up.
Backpack: my favorite thing to travel with and a blanket made by a friend.
Isa, Los Angeles, CA, 22
These wind chimes were sent to me when I was 17 by a friend named Domonique that I met while I was at the Oxbow School. Domonique was a painter- hugely full of life, She was an incredible & visionary painter. She contracted a brain infection after Oxbow and passed away after months of the doctors being unable to identify it. These chimes are the only think I have of hers.
Maddie, 21, New York, NY, 21
I made this sketchbook. I used the coptic stitch to bind the book and made stencils in order to spray paint the cover. IT is near and dear to my heart because I made it and because I am filling it with all my own artwork! I absolutely love this sketchbook and take it everywhere with me. I also am currently obsessed with aliens and that is why the cover has a pink alien on it. I also really love the color pink and glitter.
Rachelle, Bay Area, CA, 30
This bowl is one of the few objects I have of my grandmother. She was a large part of my life, more like a mother than a grandmother. She took care of my sisters and I for many years when my mother wasn't able.
I take it with my when I travel to store any precious small things.
Sara, Los Angeles, CA, 25
Wouter, On the move, 21
The grimy cyclists in Los Angeles would have these fanny packs which 15 year old me thought were really useful and cool looking. I spent a long time trying to find exactly the right fabric and materials to make my own because buying a fanny pack cost around a hundred dollars. I made this fanny pack and have been wearing it almost every day for the past 5 years.
Lori, Watsonville
Sand from the Sahara, and a note written on a paper cut like a shirt.
Sarah, Grinnell, IA, 35 -1
Joy of Cooking: this was my grandpa's copy. My family cooks a lot and I grew up learning to cook from both my parents; my grandpa taught me some good stuff, too.
Infinite Jest: I get really invested in books, not just as writing but as objects. I remember where I got them, I remember the experience of reading them—where I was, and when. If this book were lost or damaged, I could get another copy, but it wouldn't be my copy, with my notes and underlining and well-loved pages.
Hoodie: I went to Wash U and so did my little brother. I bought thishoodie at his graduation (2009), to replace one I'd bought when I started my freshman year (1998) that had disintegrated. This one is disintegrating too.
Mike Mulligan: my parents read to me all the time when I was little, andthis was a favorite for my dad and me in particular.
You Will Go to the Moon: another childhood favorite, but this onebelonged to my dad—I used to read it at my grandparents' house, and then it found its way to my house.
Memphis newspapers: my grandma was a huge Elvis fan, and so am I.
She was in the hospital in Memphis having surgery the night that Elvis
Sara, Grinnell, IA, 35 -2
Memphis newspapers: my grandma was a huge Elvis fan, and so am I. She was in the hospital in Memphis having surgery the night that Elvis died—he was brought from Graceland to that same hospital. During her hospital stay she collected the Memphis papers with all the news stories about his death. She kept those papers rolled up in a plastic bread bag in a closet for 30+ years, and when she and my grandpa moved to assisted living, I inherited this artifact.
Stuffed koala: this is Chub Bear. I've had him since I was 2. He's been a lot of places.
Plate: My partner made this for me a few months before I finished myPhD, when we had first started dating. She used my favorite font and everything. She's a keeper.
Knives: I've been collecting knives for ages. The dagger is the first knife I got; a weird boy gave it to me for my 17 th birthday (my friends and I in high school called it the BFK: Big Fucking Knife). The black folding knife is the first one I bought for myself. It's seen a lot of use. The small knife with the wood handle is the first really beautiful custom-made knife that I bought, and the man who made it is one of my favorite knife makers. He sends me VIP passes to the annual blade show every year. It's a treasure.
Bill, Oakland, CA, 78
Hat Pin: Found somewhere, not sure where, not sure why I decided to hold on to it. It one of those things you don't see anymore.
Instrument: From an artist friend of mine, a cabinet maker, who made it especially for me, because he knows I love music.
Letter: From a lady that I met when I was traveling in Nagano, Japan taking a woodblock printing class. She was an artist. I like the stamps.
David, Oakland, CA
Tulula, Oakland, CA
Juan Carlos, Oakland, CA, 51
Stone was giving to me by my aunt who was a nun in Cuba. She told me it was from Cobre, Cuba. The small town where the virgin de La Caridad, patron saint of Cuba, is kept.
The match box was found on the street of Habana on my first trip there in 1995.
The picture is of the Bar Hermanos Quintana, which was my family bar in Habana , Cuba. The picture is of my Uncle Roberto, who gave it to his wife Delia in1959, the year of the revolution.
The book was sent to me from my cousin Alberto from Cuba in early 2000's .
Kate, Oakland, CA, 42
When I was 11 years old I received this trophy for a Fire Prevention Week poster I made. It was 1984 and the Ghostbusters movie was really big. The slogan I used on the poster was "Take it from the Smoke busters - Use Smoke Alarms". It was the first award I received for making art.
Abagail, Pittsburgh, PA, 28
Sewing table: Belonged to my maternal grandmother who inherited it from her husband's mother - my great grandmother. There was some controversy regarding who inherited it next. We all had a special relationship with my grandmother, Nana. I really appreciate receiving this table since I have such fond memories of learning how to sew with Nana.
Abagail, Pittsburgh, PA, 28
Sewing box: Belonged to my paternal grandmother, who taught Home Economics. My dad thinks that's funny because she was not a great cook. Her talents must have lied in sewing. She and I had the same birthday.
Devan, Pittsburgh, PA, 25
The pog slammer is a gift from my mother when I was about 5 years old. After growing out of playing pogs, I continued to hold the slammer piece with me on my person almost at all times out of habit after my mother joined the Army National Guard. I like to think that the eye on it is watching over both of us.
The Virgin Mary mirror is a gift from my best friend. She told me to keep it in my breast jacket pocket and take it out to look at myself whenever I felt I needed to. It stays in my winter coat all year round.
Emily, Pittsburgh, PA, 22
I inherited spot when I was two years old - my 5 year old's neighbor decided he was too old for stuffed animals and made him give spot (my favorite) to me. 20 years later, spot has lived in four states (VA, CA, MD, and PA) and approximately 10 bedrooms/houses. He travels on overnight trips with me without fail and even my boyfriends have "met"/ accepted spot. I've been telling myself (and others) that I would outgrow needing a stuffed animal and set lots of milestones, turning into a teenager, getting a driver's license, losing my virginity, etc. that would signify I was "too old" for stuffed animals but so far, none of them have stuck. I think that at the end of the day, we all need a little bit of comfort from an external source and something that reminds us of the people we've been beore.
Katy, Pittsburgh, PA, 54
This pocket watch was given to my great great great Grandfather Charles Bell by Katheren Aldreidge on the wedding day. Passed to my grandmother at her wedding and then to my father on his wedding and to my ex husband Tom on our wedding day. My ex husband kept the watch when we divorced. 10 years later he committed suicide, his current wife said he had pawned this watch. My cousin found it at the pawn shop and bought it back for me for the amount he pawned it for. Charles Bell also gave Katheren a pocket watch
Katy, Pittsburgh, PA, 54
Kevin, Pittsburgh, PA, 42
Leather jacket was a birthday Present in 1997. It has the original insignia of the Bay Area Pyrate Punx Oakland, CA
Michael, Pittsburgh, PA, 26
I went on a skating trip to the Cayman Islands. It was my first big trip and we got taken on a boat trip to swim with stingrays. On the way back we stopped in the middle of the ocean, but it was only about 8feet deep. I saw a shimmering pink object at the bottom. I dove in and grabbed the shell. It had been killed by an idiot so it was unusable or all other life. I took the shell home with me and it has been my travel companion ever since
Seth, Pittsburgh, PA, 28
This shirt was my mother's and is one of her favorite colors and also one of my favorite colors. I remember liking it and when I began printmaking the simplified/ silhouette rendering of the chair really came to mind. There was a time that I asked her if she still had the shirt and a holiday later she had framed it for me. I don't know if the chair's aesthetics really informed the my art all that much but the way my mom gifts is something I've embraced.
Rona, Pittsburgh, PA, 37
Its a little teapot my father left for me before he passed away. I don't really ever use it (it only serves one). I treasure all the memories of drinking tea with my dad in taiwan late into the night and the talks we used to have.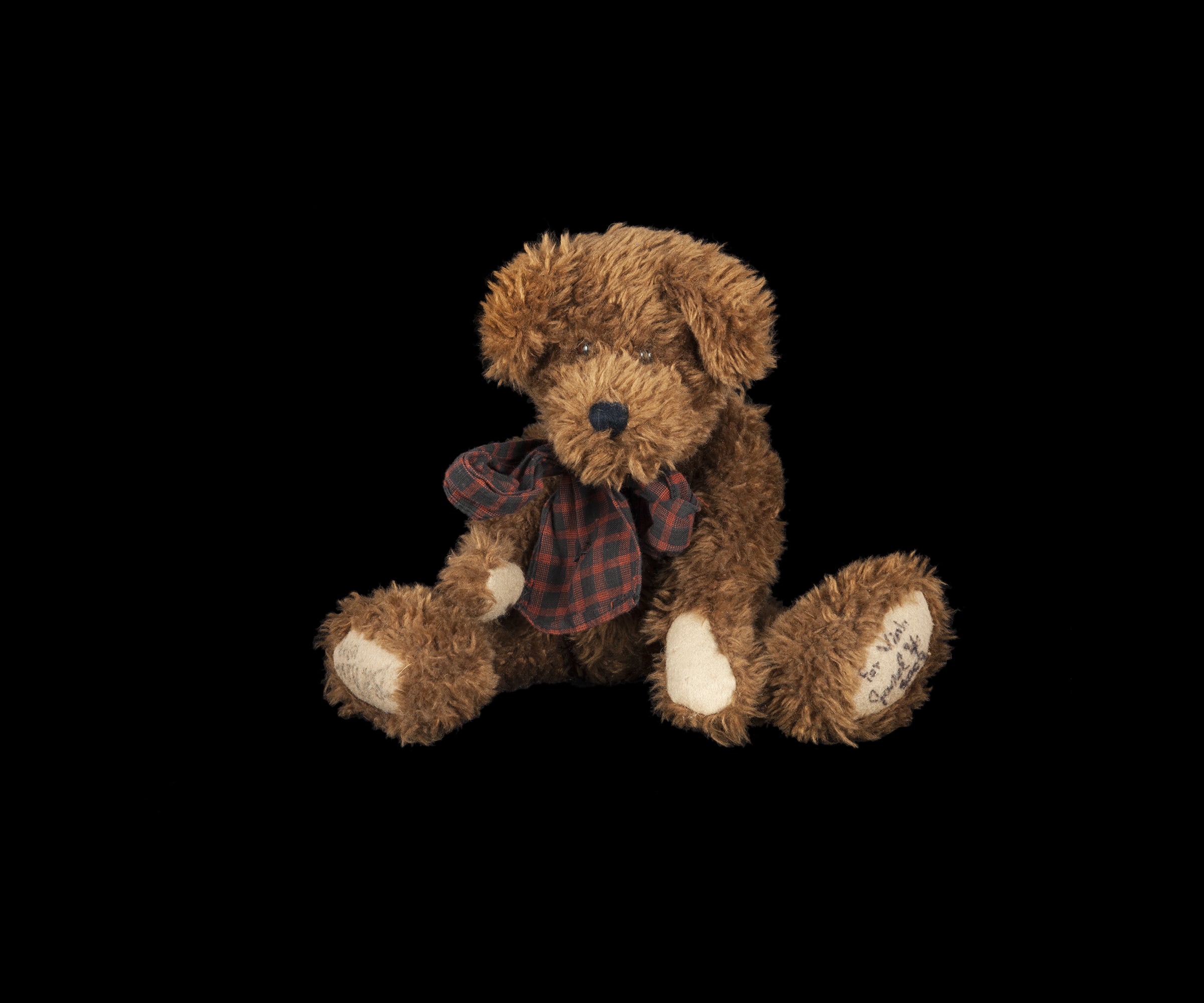 Vinh, Pittsburgh, PA, 29
My teddy bear was gifted to me for my graduation from a dear friend that I came to know, care for, and love in my time at college. It's a rough, old bear. Older than me even. In gifting it to me, she told me it was a present to her by her beloved, late grandmother as a sign of love, of cherished memories together, and of hopes for a happy future. As her grandmother was a cornerstone to her life and upbringing, she hoped to pass on the same sentiments to me in how grateful she was of the years she could lean on me.
She said I was the first person take notice and help her through the emotional roller coasters of our first years and on. And so she did the same for me in leading to my final days of graduation.
Anne, Pittsburgh, PA, 51
My dad died 12 years ago. This hat was his signature look. As long as I can remember he wore a hat like this. Two days after he died I had a dream - well more like a vision - of my dad. He looked like he did in the 70's, big heavy glasses, bushy mustache, trench coat and this hat. In the vision he just said to me that he was OK. I think of that moment whenever I touch this hat.
Cecelia, Pittsburgh, PA, 28
This necklace was a birthday gift from one of my very closest friends. Every time I wore it I received many compliments and questions about its material and origin. It fell perfectly between my breasts. When it broke I felt like a bad friend, even though it was an accident. This necklace is a talisman and I am not ready to let it go. I will teach myself Kintsugi and mend the break with gold dust like it is a Japanese pot.
Anna, Pittsburgh, PA, 23
Scarf: This was given to my by my mother's friend when I was in elementary school. I rediscovered it in high school or college and began wearing it on my head or carrying it around in my bag or wrapped around my wrist just in case. It became an important part of my personal style.
Whales: Both were made by one of my best friends from school, Justin Lin. The bronze one is pocket-sized and really nice to hold. The porcelain one keeps my plants company.
photograph of Penelope Cruz: This used to hang on the wall of the dining room in the house my ex-boyfriend shared with his college roommates. It spoke to me. When they were all leaving after graduation I snagged it. Now it hangs over my bed. While it was in the boys' house, they had this post-it on it that said "don't jerk off to me" but I moved it to a picture of Walter White because I didn't think Penelope would mind.
Assorted Friendship Bracelets: I wore all of these at once stacked up my wrist the summer after freshman year when I worked as a camp counsellor at an all-girls camp in Maine. This was the summer of my first real boyfriend, nicknamed Office Dave. He goes by David now. We still talk.
Buzzer and Combs: Given to me in November when I went home to visit my mom and dad for their birthdays. My dad has had it for maybe 20 years. Now that my hair's short, I'll use it. Dad shaved the back of my neck in the kitchen while I was cooking brussel sprouts and said something along the lines of, "I never thought I'd be shaving my daughter's head." I think he always wanted a son. When I got back to Pittsburgh, Leah Wulfman came over and shaved my head with the longest comb in the kit. A week later, Caitlyn came over and we both took off our shirts and I gave her a matching haircut.
Necklace Charm: I found this in one of my mother's jewelry boxes, the one that has the stuff that is too busy, that she never wears. It is made out of butterfly wings. I wore it every day but I shouldn't have ever showered in it. Now the whole design is breaking apart and there are deep, black areas that weren't there before. It makes me sad to look at it now. The design was a woman in a dress facing left and holding a bouquet.
Photo in Dinosaur Frame: This is a framed photo that I've had in my room since it was taken. It's a photo of me and my cousin Chloe. I think we were camping. This was back when Aunt Diane and Uncle Mike were still together. Uncle Mike was the one who was big on camping. He still takes the girls camping and rock climbing sometimes. I like that the frame doesn't have any glass. There's just a round space for a photo to be attached. Someone (I'm guessing my mother) had to trace this indent and cut the photo, then set it in there with tape.
Jill, Pittsburgh, PA, 39
My aunt made this baby blanket for me when I was born. Through my parents' divorce, changing schools several times from first grade to high school, college and young 20s in NYC, lost friends/pets/family and most recently the end of my marriage-- blankie has been THE constant in my life.
Reese, Pittsburgh, PA, 25
This is a box of small sentimental objects and jewelry. I keep it in my small apartment. I have a bedroom full of sentimental objects in the same city. I have had some of these objects for a long time. The earliest object is the shell necklace. It was given to me by an artist friend of my father. He said "don't let anyone take this, these are hot items" or something to that affect. I'm not sure if he meant his art is valuable, which it has become in the years since, or if the shells were particularly popular for kids in the 4th or 5th grade. I wore it until it fell off. I have some other objects that book-end my public school education. The bullet casing and rifle pin are from my time as a varsity member of my championship rile team. Items from there get less personally sentimental, maybe because they're more recent, maybe because I collected them with intention. Prayer cards from late relatives and friend's late relatives. Westinghouse trinkets from my Grandfathers long career as a draftsman. My great grandfathers ring - maybe less sentimental because I wear it on occasion. And assorted other things.
Allison, Pittsburgh, PA, 24
These two rings come my from my grandmothers on either side of my family: the jade pinky ring from my father's mom and the opal ring from my maternal grandmother. Each of these women has been hugely influential for me and their stories and strength have inspired me in ways beyond what I can describe in words.
I'm very interested in rings as a way of passing history-- each of my grandmothers has done a lot with her hands and for years these rings were a part of those hands. These rings are special to me not just as gifts from two women I admire, but also because by wearing them I am actively contributing to their history and legacy.
Phyllis, Pittsburgh, PA, 26
I bought this jacket 2 doors down from Bunker Projects at a furniture store. As I was trying it on, the woman who sold it to the store came in and told us stories of her grandmother wearing it and how she used to work at Kaufmann's when it was still around in Pittsburgh and how she traveled a lot to China as a buyer. I love this jacket so much and it's been with me at my happiest and saddest. In the woods, at the lake, at costume parties, and work functions. It's the only coat that the cold won't penetrate and I feel so powerful wearing it. Today I was strolling downtown in my heels and this ridiculous coat and feeling so damn powerful after a grueling mind-zapping day in my cubicle. I love this coat and the way it empowers me when I wear it. EVERYONE should own a rabbit fur coat.
Christine, Beaver, PA, 42
The journal was a gift begun as a gift to me my 3 sons for my birthday several years ago. Each year, they each write in a page. It is a beautiful glimpse into their hearts and is a precious possession.
The pussywillows were given to me from my niece and nephew who live in Bruxelles. They are their kisses for me when I am missing them.
Joseph, Pittsburgh, PA, 28
This is brother's boy scout pocket knife. I found it in his room after his funeral and I keep it with me to remember him.